With our respect to the history and craft of bartending, you can enjoy anything from elevated classics to our own custom creations. Have a sip of local as we take pride in sourcing our draught beers from your favourite neighbourhood breweries! Our tailored wine list boasts flavours from around the world – discover your favourite by the glass or bottle. Let us know if you're celebrating something special and inquire about our reserve wine list.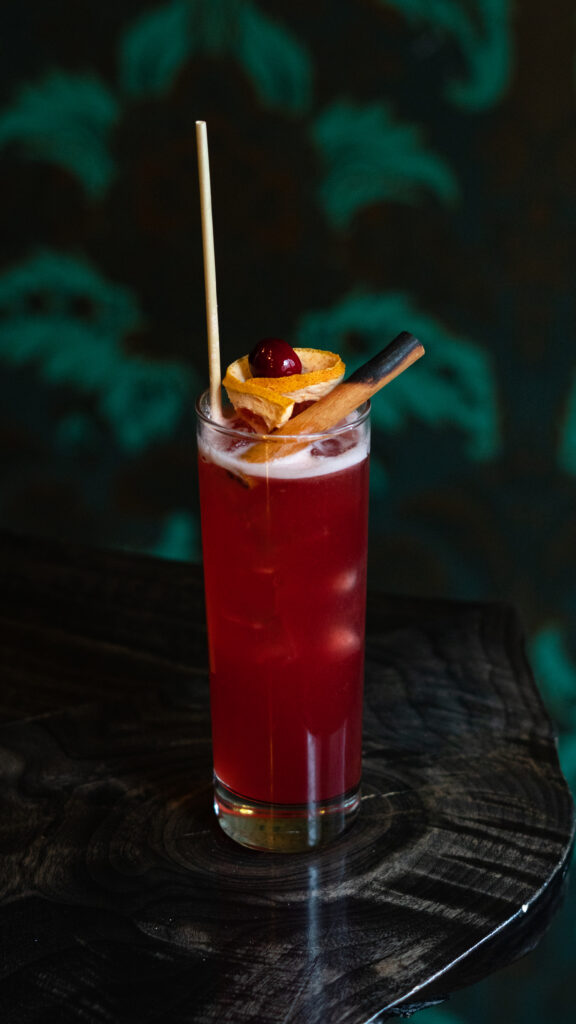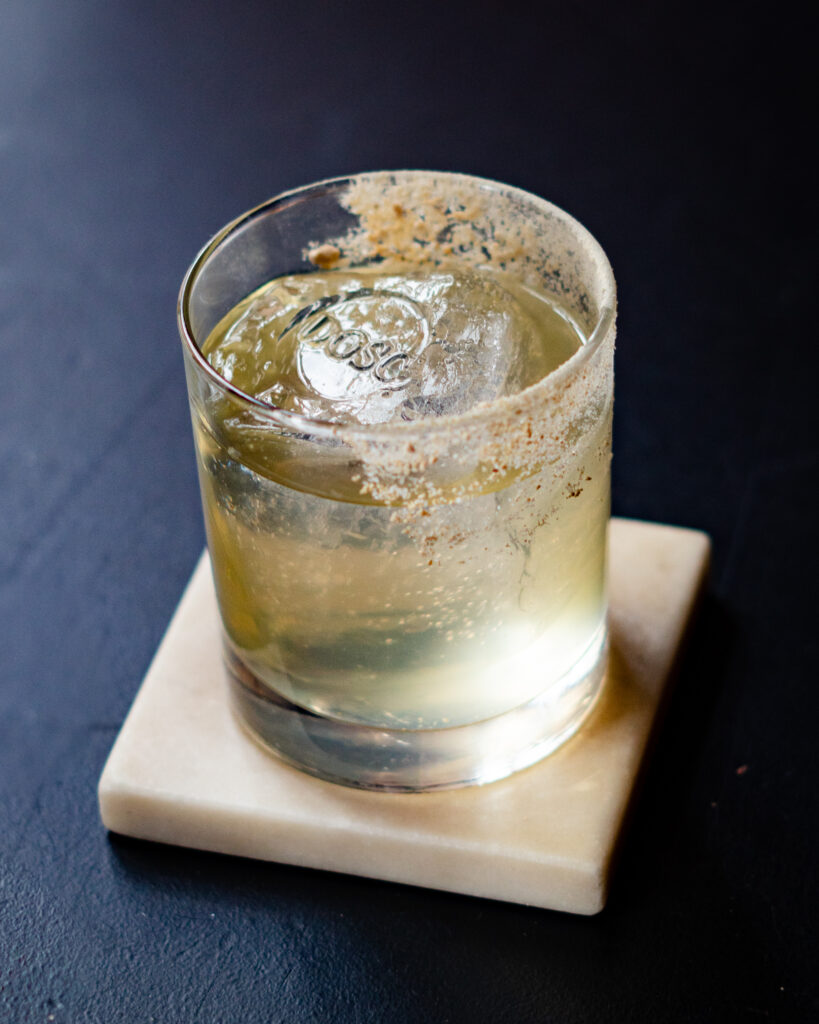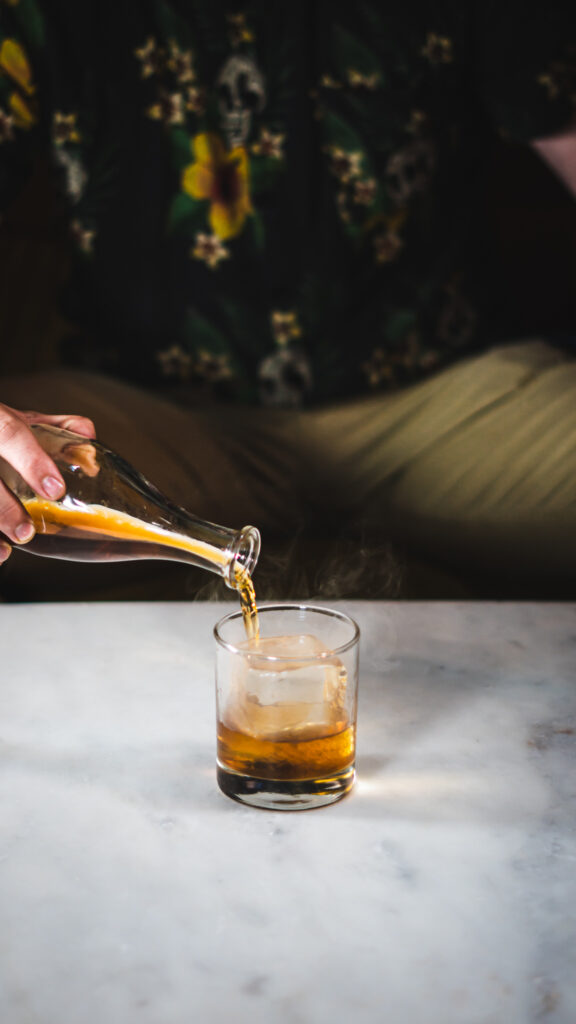 Piña Colada (for 2+ people)
40 
tropical, refreshing, sweet – 5 oz
Cuban and Jamaican Rum, Coconut, Pineapple, Lime, Orgeat, served in a hollowed pineapple!
smoky, funky, refreshing – 2.25 oz
Mezcal, Aperol, Fernet Hunter, Sugar, Angostura Bitters
sour, bitter, fruity – 2 oz
Tequila Reposado, Peychaud Aperitivo, Raspberry, Lime, Angostura Bitters, Chili Oil, Egg Whites 
rich, citrusy, smoky – 2.5 oz 
Mezcal, Ginger, Honey, Lemon, Lime
fruity, refreshing, funky – 2 oz 
Gin, Aperol, Banana, Grappa, Lemon
cherry, chocolate, spirit forward – 2.5 oz
Bourbon, Averna, Chocolate & Mole Bitters, Cherry, Allspice
walnut, spiced, spirit forward – 2.25 oz
Rye, Benedictine, Green Walnut Liqueur, Maple, Orange Bitters, Torched Cinnamon Stick
Zombie by the Cranberries        16 
spiced, fruity, refreshing – 2.75 oz
Cognac, Rum, Absinthe, Lime, Cranberry, Grapefruit, Cinnamon
sweet, nutty, spirit forward – 2.5 oz 
Scotch, Amaro del Capo, Amaretto, Benedictine, Walnut Bitters
Chateau Montifaud 50yr Cognac, Michter's Straight Rye, Vieux Pontarlier Absinthe, Peychaud's
Reserve Old Fashioned40

2oz
Still Austin Straight & Cask Strength Bourbons, House Aromatic Bitters, Demerara
9 oz
8 yr. Rum, Brandy, Curaçao, Raspberry, Demerara, Citrus, Pineapple, Black Tea, Bitters
Campio Eternal Spring Rose  9

Phillips Electric Unicorn 8

SYC Pontificato                                8

Ol' Beautiful Okami Kasu8
Tomato Wheels

Lambrusco                           
 14 / 65
Fabre en Provence14  /  65

Cotes de Provence A.O.C.
Vintae Franesc Ricart 45

D.O. Cava Brut
Penedes, Spain
Lelarge-Pugeot 19 / 155

Rosé Extra
Brut
Champagne, France
Lelarge-Pugeot 185

Nature Brut
Champagne, France
Dom Pérignon 475

Brut
Champagne, France
Catalina Sounds14  /  65
Sauvignon Blanc
Cambria 14  /  65

Chardonnay
Santa Maria Valley, California, USA
Zinck Grand Cru Eichberg 16  /  75

Gewurztraminer
Prieler                                      55
Twisted Cedar60
99% Chardonnay, 1% Vieugnier
O'Rourke's Peak Cellar 65

Riesling
Paso Robles, California, USA
Chenin Blanc
Piekenierskloof, South Africa
Malvasia, Moscata Piemontese
Piemonte, Italy
AOC Sancerre Calcaire
Sancerre, Loire Valley, France
Matias Riccitelli – Blanco de la Casa 91
Sauvignon Blanc, Semillón, Chardonnay
Mendoza, Argentina
Domaine Belargus Anjou Noir 110
Anjou AOC            Chenin Blanc
Loire Valley, France
Stonestreet Estate – Upper Barn Vineyard 160

Chardonnay
Alexander Valley, California, USA
Château Cabrières L'Esprit 38 / n/a
5 oz glass pour only
Chateauneuf-du-Pape, Rhone Valley, France
Arrowood 19  /  100

Cabernet Sauvignon
Knights Valley, California, USA
La Réserve Rasteau 15  /  65
Grenache, Syrah, Mourvèdre
Rhone Valley, France
Vignerons de Buxy 15  /  65
Pinot Noir
Burgundy, France
Palagio When We Dance 15 / 70

70% Gaglioppo, 30% Cabernet Sauvignon
Calabria, Italy
Bel Colle – Langhe DOC 60
Nebbiolo
Langhe, Piemonte, Italy
Shiraz
Clare Valley, Australia
Domaine des Masques – Exception90
Barbera d'Alba DOC
Roddi, Piemonte, Italy
Tenuta di Arceno Strada al Sasso 
100
Amarone della Valpolicella
Veneto, Italy
Mount Peak Rattlesnake
110
Zinfandel
Sonoma County, California
Super Tuscan: 90% Sangiovese Grosso, 10% Cab & Merlot
Montalcino, Tuscany, Italy
2018 Stonestreet Estate 125
Cabernet Sauvignon
Alexander Valley, California
Petit Sirah, Syrah, Grenache
Rutherford, California
Anakota Helena Montana215
Cabernet Sauvignon
Knights Valley, California
Spicy: pineapple, Ancho Reyes
Sweet Peach: orange, peach liqueur
Bitter: grapefruit, Amaro Montenegro
Original: orange, Cointreau
All four Mimosa Styles with a 750 mL bottle Benvolio Prosecco