served from 10 AM – late
Happy Hour from 3 PM – 5 PM
With our respect to the history and craft of bartending, you can enjoy anything from elevated classics to our own custom creations. Have a sip of local as we take pride in sourcing our draught beers from your favourite neighbourhood breweries! Our tailored wine list boasts flavours from around the world – discover your favourite by the glass or bottle. Let us know if you're celebrating something special and inquire about our reserve wine list.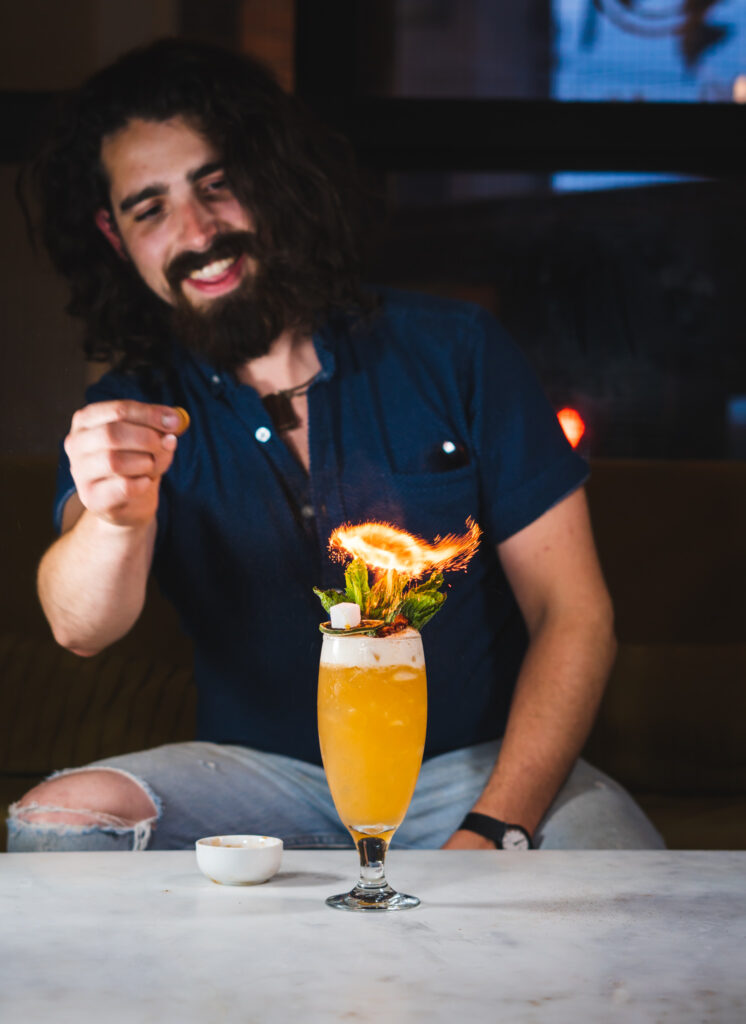 Positive Vibrations, DOSC Cocktails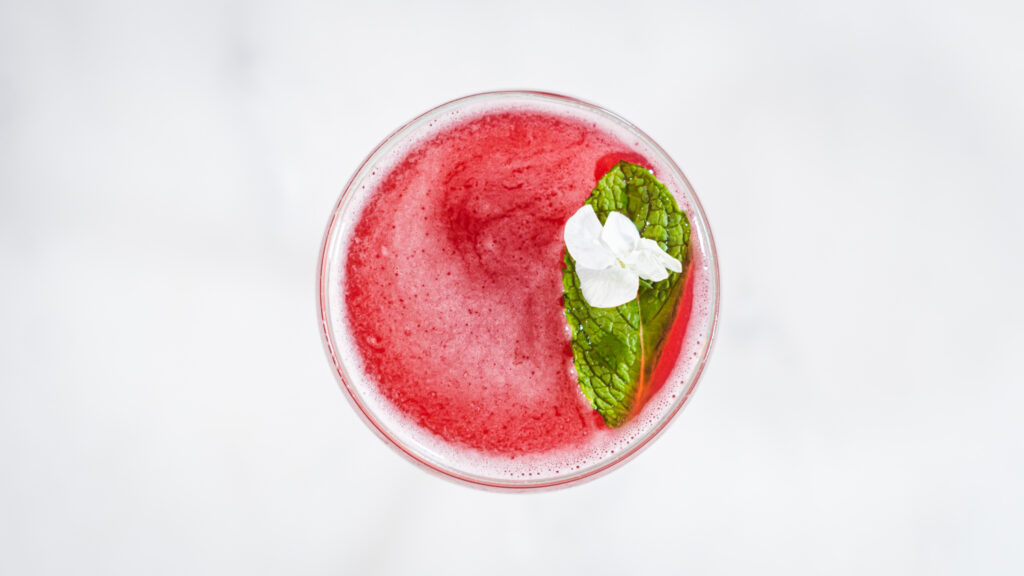 Ode to Ophelia, DOSC Cocktails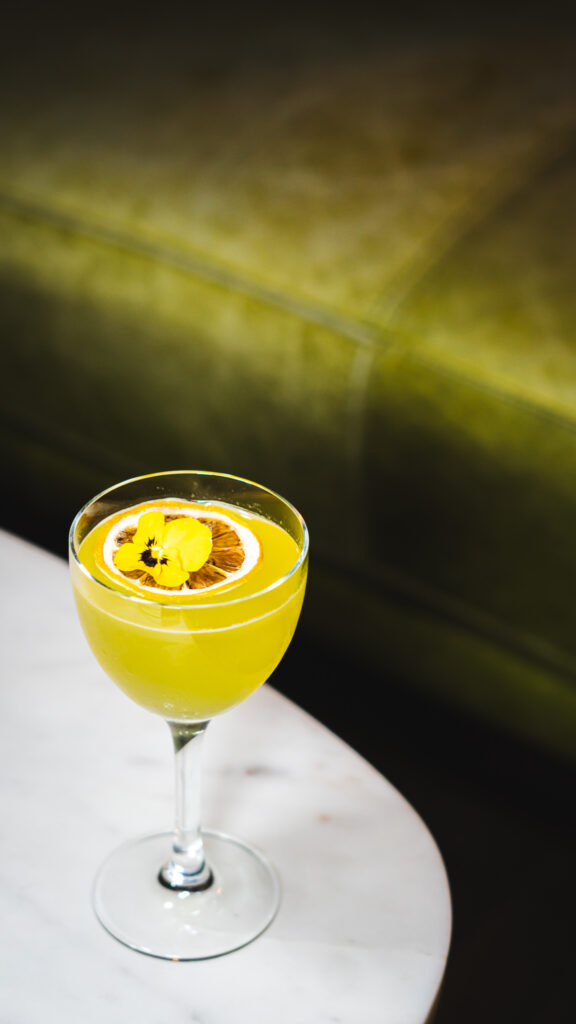 Maeflower, DOSC Cocktails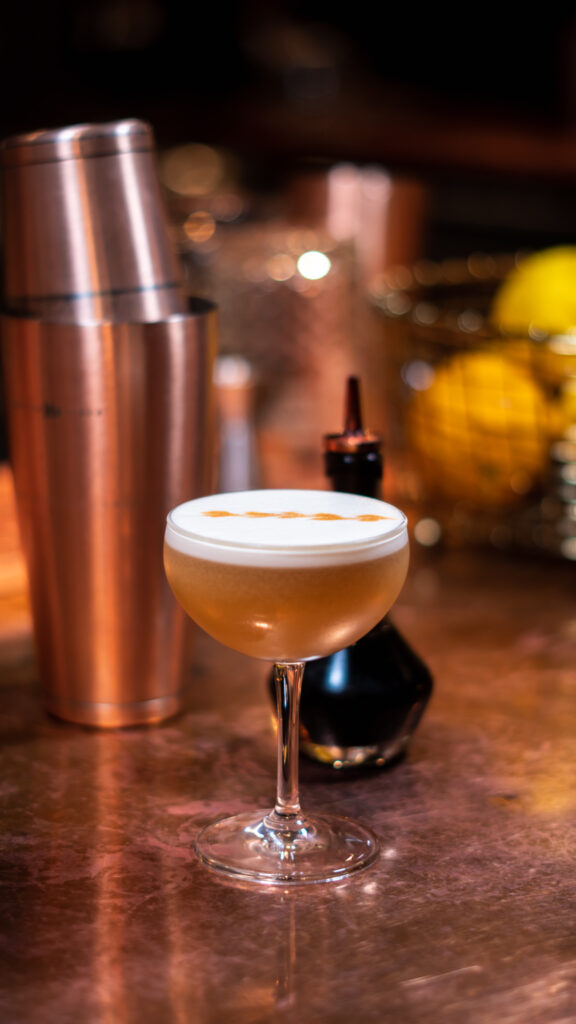 Copper Bar Top, DOSC Cocktails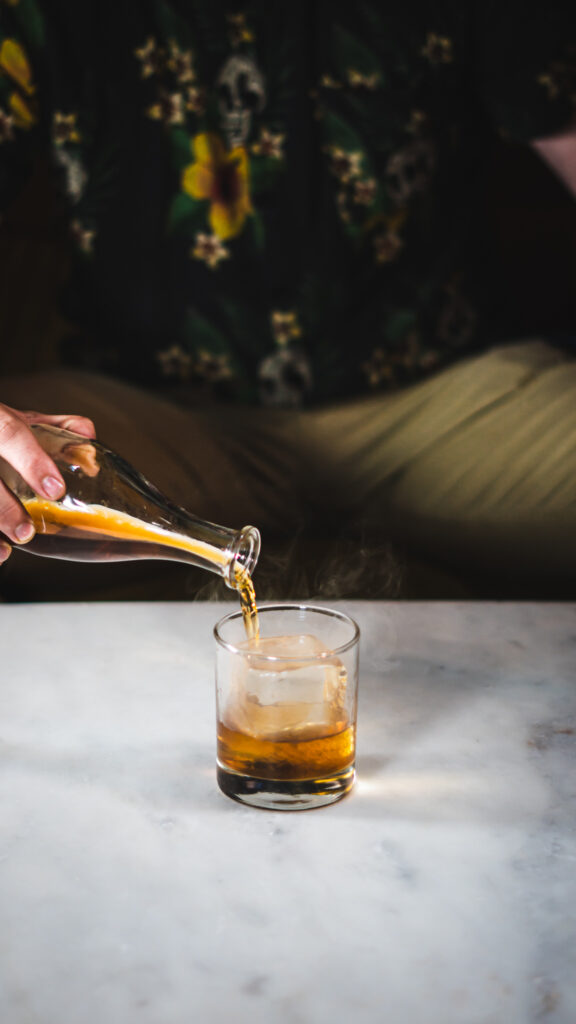 Sentimentality, DOSC Cocktails
2 oz
DOSC Scotch Blend, Cynar, Grapefruit, Lemon, Grenadine
2.25 oz
Za'atar infused Durango Mezcal, Campari, Torres 10, Grapefruit Oleo, Angostura
2.5 oz
Reposado Tequila, Banane du Bresil, Ancho Verde, Espresso Agave, Lime
2 oz
Appleton Estate 8 yr, Smith & Cross, Vanilla, Lime, Strawberry, All Spice, Egg White
2 oz
Tanqueray, Crême de Violette, Blueberry Syrup, Lime, Mint, Cucumber, Rose Water
2.25 oz
Rittenhouse rye, Benedictine, Orahovac, Maple, Orange Bitters, Nutmeg, Smoked Cinnamon 
The French Kiss Goodbye
15
2 oz
Koch Mezcal, Cachaça, Cynar,  Lemon, Gomme, Black Pepper
Titos, Midori, Lemon, Rose Syrup
2.5 oz
Sotol, Port, Amaro Nonino, Pandan, Mint
2.5 oz 
Alberta Premium rye, Aperol, Lemon, Mango, Basil, Pepper, Angostura
2 oz 
Torres 10, Calvados, Dry Curaçao, Gomme, Lemon, Egg White, Angostura
9 oz
8 yr. rum, brandy, Curaçao, raspberry, demerara, citrus, pineapple, black tea, bitters
2 oz 
Barrel-Aged Toki, Hibiscus, Honey, Ginger, Yuzu, Angostura
2.5 oz 
Barrel-Aged Maker's Mark, Peach Liqueur, Angostura, Simple Syrup
2 oz 
Don Mateo Pechuga, Fortaleza Anejo, Smoked Agave, Creole Bitters, Angostura
Night at the Voodoo Museum 40

2 oz 
Torres 30 yr. Jaime brandy, Michter's single barrel rye, Satsuma-infused Carpano, bitters, Angostura, Benedictine
Campio x DOSC
Looking Out My Back Door 9

Townsquare Beets by Sinden8

Irrational Brewing Company8

70 Acre Brewing Prairie Sun-Ryes8

Ol' Beautiful Okami Kasu8
Roger Goulart 
Rose Brut
50
Gérard Bertrand 

Cote de Roses 
Rosé
60

Taittinger Cuvée Prestige
Brut
120
Veuve Cliquot Champagne Brut120
Unsworth Allegro 
Sauvignette, Petit Milo, Amiel
13  /  55
Cochiwan Valley, Vancouver Island, BC
Sunday Sail 
Sauvignon Blanc
13  /  50
Cambria
Chardonnay
14  /  60
Santa Maria Valley, California, USA
Château Ferran
Entre Deux Mers  55

Culmina Unicus Grüner Veltliner80

O'Rourke's Peak Cellar
Riesling
68

Donkiesbaai Steen 
Chenin Blanc
86

Paso Robles, California, USA
Stonestreet Estate 
Chardonnay
85

Alexander Valley, California, USA
Stonestreet Estate Upperbarn                           140
Alexander Valley, California, USA
Rockbare 

Grenache
 15  /  70
McLaren Valley, Australia
Chateau Ferran 
Supérieur Rouge Bordeaux
14  /  65
Hey Malbec! 

Malbec
14  /  60
Collazzi Liberta 
Super Tuscan
  14  /  65
Stonestreet 
Cabernet Sauvignon
19  /  102
Sonoma County, California, USA
Siduri Van Der Kamp

Pinot Noir
78
Sonoma Mountain, California
Château Cabrières Châteauneuf du Pape109
Tenuta di Arceno Strada al Sasso  

Chianti Classico
90
Marques de Tomares Riojka 

Crianza
65
Columbia Valley, Washington, USA
Orin Swift Machete

Petit Sirah, Syrah, Grenache
120
Saint Helena, California, USA
Jim Barry McRae Wood

Shiraz
115
Clare Valley, South Australia
McLaren Valley, Australia
Mount Peak Rattlesnake 

Zinfandel
94
Sonoma County, California, USA
Mark Ryan "The Vincent" 

Cabernet Sauvignon
70
Columbia Valley, Washington, USA
Arrowood

Cabernet Sauvignon
110
Knights Valley, California, USA
Stonestreet Estate Rockfall

Cabernet Sauvignon
 165
Alexander Valley, California, USA
Spicy: pineapple, Ancho Reyes
Sweet Peach: orange, peach liqueur
Bitter: grapefruit, Amaro Montenegro
Original: orange, Cointreau
All four Mimosa Styles with a 750 mL bottle Benvolio Prosecco